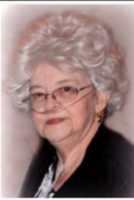 Nancy Dianne Burke Morris
NANCY DIANNE BURKE MORRIS, age 72, passed away Thursday, May 9, 2019 at Bristol Regional Medical Center.
She was born in Trammel, Va., and lived the last 20 years in Bristol, Virginia. Nancy loved playing Bingo, spending time with family and friends, and making people laugh.
Nancy was preceded in death by her parents, Buford and Ethel Burke; brothers, Samuel Burke and George Burke; sister, Judy Nunley; and son, Shawn Austin.
She is survived by her sisters, Jeanette (Ralph) Sutherland and Barbara (Glen) Booher; brother, James (Trula) Burke; grandsons, Christopher Austin and John Martin; great-granddaughter, Elena Martin; and many nieces and nephews.
A Celebration of Life will be held Saturday, June 15, 2019 at 5 p.m. at Clinchco Missionary Baptist Church, 16973 Dickenson Highway, Clinchco, Va.
To share memories of Nancy Dianne Burke Morris, please visit www.virginiacremations.com. Care for Nancy's family has been entrusted to Cremation Society of Virginia SW, (276) 782-4488.