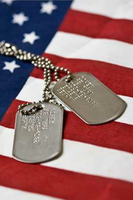 Walter Frederick "Pat" Patterson
Marion, Va.
Walter Frederick "Pat" Patterson, age 86, died Monday, July 30, 2018 at his home in Marion, Va.
Pat was a loving husband, father, and grandfather. He was a talented artist and loved to draw and paint. Pat could make something out of anything. Animals were very fond of Pat too. He enjoyed dogs, birds, squirrels and cats – at one time he was feeding over 50 cats. Mr. Patterson was also a proud U.S. Marine who loved his country. His kind and gentle ways will be missed.
He was preceded in death by his wife, Theresa Coyle Patterson; daughter, Patricia Thornton; parents, Walter and Etta Patterson; and sister, Barbara Nelms.
Pat is survived by his daughters, Theresa Baylor of Marion, Va. and Diana Waters of Richmond, Va.; sister, Margaret Agee; brother, Bobby Patterson, both of Richmond, Va.; eight grandchildren; 17 great-grandchildren; and several nieces and nephews.
A Celebration of Life, honoring Pat will be held at a later date.
Expressions of sympathy may be made to the family at www.virginiacremations.com. Cremation Society of Virginia SW is honored to serve the family of Walter Frederick "Pat" Patterson.