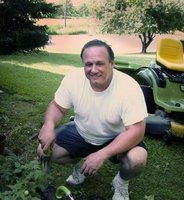 Jimmy Ray Winebarger
ABINGDON, VIRGINIA: Jimmy Ray Winbarger, 50, passed away on Sunday, July 8, 2018 at Johnston Memorial Hospital in Abingdon, Va.
He was born on October 21, 1967 in Bristol, Va. to Delilah Winebarger Anderson and the late Gerald Anderson.
Jimmy was someone you met and never forgot! His laugh was contagious, and his smile reminded you of Paul Newman. He enjoyed outdoor activities and absolutely loved his sports! His entire wardrobe nearly consisted of either Chicago Bears, Bulls, or Atlanta Braves sportswear! Jimmy was a true and loyal friend. He rarely met a stranger and would help anyone that needed help, until you crossed him and then it was simply, good luck!
Above all, Jimmy loved his family. His daughters meant everything to him. He will be missed!
Family remaining to cherish his memory includes his mother, Delilah Anderson of Abingdon, Va.; daughters, Tabatha Williams Burk of Lenoir, NC, and Micaela (Red) Roberts of Lincolnton, NC; sister, Kelly Houston of Granite Falls, NC; brother, Dale Anderson of Granite Falls, NC; nephew, Christopher Dale Perry of Orlando, Fla.; and numerous cousins.
A celebration of Jimmy's life will be conducted on Sunday, July 22, 2018 at 3 p.m. at Stretch's Café, 1900 US 70 E UNIT C, Valdese, NC.
In lieu of flowers donations may be made to the National Kidney Foundation, 30 East 33rd Street, New York, NY 10016.
Expressions of sympathy may be made to the family at www.virginiacremations.com. The Cremation Society of Virginia, Southwest is honored to serve the Winebarger Family.