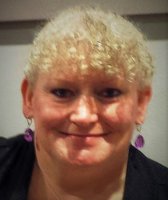 Katherine Gaye Pipes
SALTVILLE, Va.
Katherine Gaye Pipes, age 55, passed away at her home in Saltville, Va., November 12, 2017.
She was preceded in death by her mother, Sarah Souleyrette Endicott; father, Russell Endicott; and brother, Eddie Endicott.
Katherine is survived by her husband, Fred James Pipes; sisters, Pam Ivy, Lisa Ivy, Beverly Endicott and Joy Holcomb.
Born in Alexandria, Va., she was a resident of Saltville for the last 12 years.
Memorial services will be held Saturday, November 18, 2017 at 3 p.m. at the Kingdom Hall of Jehovah's Witnesses, 2510 Highway 16, Marion, Va.
Expressions of sympathy may be made to the family at www.virginiacremations.com. Cremation Society of Virginia is honored to serve the family of Katherine Gaye Pipes.