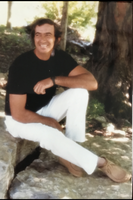 Ronald E. Hess
Ronald E. Hess, age 65, died Thursday, June 29, 2017.
Ronald Hess was born December 4,1951 to the late Ervin and Pauline Hess. Ronald lived all his life in Russell County. He worked in construction in his early years and as a guard at the prison. Later he worked as a heavy equipment operator and ended his working years with Bristol Compressors until his health got bad.
In addition to his parents, he was preceded in death by one sister Joan Shortridge.
He is survived by his wife of 32 years Wanda Hess; one son Ronald Anthony Hess; two step daughters Vickie Nunez and Lucinda O'Quinn; one brother David Hess; two sisters Brenda Murphy and husband Bob, Barbara Meade and husband Ron; three grandchildren Dylan, Tim, and Chloe; and many nieces and nephews.
The family will receive friends and family on Saturday, July 15,2017 at the family home from 5pm-8pm. His remains will be put to rest on the family farm where he lived the majority of his life.
Expressions of sympathy may be made to the family at www.virginiacremations.com. Cremation Society of Virginia Southwest is honored to serve the Hess family.