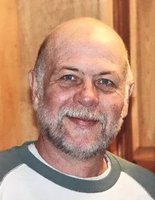 Robert Joe Barrett
SALTVILLE, VIRGINIA: Robert Joe Barrett, 61, of Saltville, VA, went to be with his Lord and Savior, and to meet his many loved ones on Friday, June 23, 2017.
Joe was born on July 28, 1955 in Saltville, VA. He was an avid fisherman and hunter, a member of the First Christian Church, and loved by many!
He was preceded in death by his father and step-mother, Bill Joe and Carol Barrett; step-father, Alfred Ward; grandmother, Macie Ratcliffe; paternal grandparents, Bob and Elizabeth Barrett; step-brother, Roy Petty; mother and father-in-law, Harold and Laura Dye; and his aunt, Betty Browning.
Joe is survived by his mother, Shirley Ward; his wife Becky of 31 years, son, Adam Cassady and friend, Jessica Billings; daughters, Sarah Barrett and Autumn Barrett and fiancé, Cody Burress; five grandchildren, Austin Jackson, Chloe Jackson, Dominic Lynch, Sammie Cassady and Emma Burress; step-sisters, Debbie DeBord and Tammy Hahn; step-brother, Tiger Ward and wife, Barbara; sister-in-law, Judy Marek and husband, Joe; brother-in-law, Jim Ridenour; aunts Ella Lee and husband, Percy, Carol Yates and husband, Jim, and Ora (Chunny) Ratcliffe; uncle, Jim Ratcliffe and wife, Bonnie; numerous nieces, nephews and cousins; and special friends, Larry Delp, Mike Bell, Charles Craven, and Tiger Ward.
Memorial services to honor Joe's life will be held on Monday, June 26, 2017 at 7 p.m. at the First Christian Church; 429 Allison Gap Road, Saltville, VA. where Military honors will be presented by Marion VFW Post #4667 and the Virginia Army National Guard. The family will receive friends on Monday from 5 p.m. until the time of service.
The Cremation Society of Virginia S.W. is honored to serve the Barrett Family, (276) 782-4488.